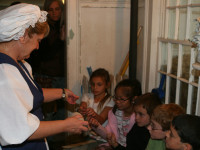 Our Commitment to Education
2016-17 School Program Brochure
Our education programs provide students and the community with insight into many local historical events that affected both Smithtown, and the nation as a whole. Each of our educational programs uses a variety of activities designed to provide an increasing understanding of historical topic
HOMESCHOOL DAY
Smithtown Historical Society invites homeschool families with school aged children (k-12) to discover what life was like for Long Island Families in centuries past.  Homeschool Day is Thursday, May 4th with program options throughout the property. To learn more about these unique program offerings please call Smithtown Historical Society at (631)265-6768 to register and for pricing.
 
MILDRED SMITH HISTORICAL ESSAY  SCHOLARSHIP CONTEST
Mildred Smith Historical Essay Scholarship Contest
This year, the Smithtown Historical Society and the 911 Responders Remembered Memorial Park in conjunction with the FealGood Foundation, offer junior year students in the Township of Smithtown an opportunity to win a $2000.00 scholarship. The Mildred Smith Historical Essay Contest, a scholarship award, is open to all 11th graders in attendance at Commack, Hauppauge, Kings Park, Smithtown East & West High Schools, as well as at The Knox School and Smithtown Christian School.
Mildred Smith was an original founder of the Smithtown Historical Society and its first President. She possessed an intense passion for the history of Smithtown and was a great friend and supporter of the Society. The Smithtown Historical Society is proud to honor her through this annual essay contest and hopes that the spirit of Ms. Smith will live on in the devotion and hard work of students submitting essays for consideration.
The Annual Mildred Smith Historical Essay Scholarship Contest is in its eleventh year. This year's theme is: How has growing up and/or living in Smithtown influenced what your idea of a hero is? (800 words.)
Submissions for the contest will be accepted from now until June 9, 2017 up until 5 pm in the
Smithtown Historical Society's Headquarters at the Roseneath Cottage, 239 Middle Country Road, Smithtown, New York 11787. For more detailed information regarding the rules and regulations pertaining to the contest, please visit the Society's website or call our office (631) 265-6768.