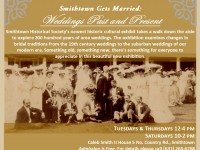 Exhibits
Our exhibitions present new, engaging, and vibrant ways of looking at Smithtown's past. Using our historic collection, our consulting curator pieces together creative and unique exhibitions to showcase Smithtown's rich history. Exhibits typically run from March through November in the Caleb Smith II House which serves as our collections and exhibit building. Museum exhibition hours are  Saturdays 10 am-2 pm by appointment only. The Caleb Smith II House is located at 5 North Country Rd, just next to the main building of the Smithtown Library.
Keep in Touch: 300 Years of Communication in Smithtown
Keep in Touch explores the evolving ways that Smithtown residents have communicated throughout history, from writing letters, to sending telegraphs, talking on the telephone, and the emergence of 21st century modes of connecting through email, social networking, and smart phone technologies.

 

The exhibition includes a carved wooden writing desk from the late 1600s; one of Smithtown Post Office's first US Mail signs, c. 1890; a Hallicrafter's SkyChampion S-20R radio, c. 1939, that was used by a Smithtown resident to get news during World War II; and a Remington Standard typewriter, c. 1910.

 

An old oak telephone (c. 1910), an early Apple computer, an iPhone, and other forms of technology will also be displayed, as well as examples of letters that indicate how people have dialogued and kept connected over time.

 

"It is with emotions that I never before experienced, and which I cannot describe that I take my pen to address you," starts one displayed letter in the exhibition, a love note from a young Commack woman to her beau in 1823.

 
As other ways of connecting joined letter writing, Smithtown adopted new technologies slowly but surely.

 

The initial phone switchboard was located in a small drugstore on the north side of Main Street, near the railroad station, in 1899; by 1910, the town had one hundred phones and local numbers.

 

The town's central phone office expanded to just five hundred customers by the eve of the Great Depression.

 

From there, it blossomed and eventually matched the town's increasing suburban growth.

 

Keep in Touch will explore all the various ways that people's communication in our town has changed from a time when receiving a handwritten letter was a cherished experience to our present more instantaneous ways of connecting.